Hi there!
I'm from Latin America and I applied to the MSc in Oral Pathology
(dentistry). My application was rejected. I thought I had a strong letter
of recommendation and a solid background (although maybe not enough
research experience), which leads me to believe my undergraduate GPA wasn't
high enough (3.2, minimun for my country to apply was 3.0) and was the
primary reason of my rejection.
I would like to ask if any of you is currently accepted in the program,
with what GPA did you get in, and if you recommend for me to reapply.
Thank you!!
———————————————
hello,
first of all, i'm really sorry to hear that you didn't get into the program. i'm sure you worked very hard, but don't lose hope. there are definitely plenty of career paths you can pursue with your grades and educational background!
i'm actually not a dentistry student, but in posting this, i hope you'll get feedback from other applicants in the comments!
i'm going to try to answer this question while ignoring the fact that dentists are the bane of my existence…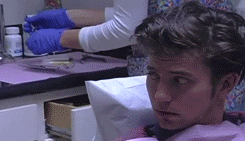 unfortunately, i can't tell you exactly why you didn't get in. that's a question you'll have to ask admissions.
however, in regards to your GPA, while it is true that a 3.0 GPA is the minimum, it seems that most applicants who were invited for interviews had higher GPAs. to quote the one of the answers given on the dentistry website:
"A minimum current grade point average of 3.0 (4.0 scale) is required to apply to the Doctor of Dental Surgery Program (DDS). However, a grade point average of 3.0 (i.e. B) at the time of application does not guarantee selection. It should be noted that the 170 domestic applicants invited for an interview had a GPA of at least 3.85 and the 10 international students invited for an interview had a GPA of at least 3.75."
this may explain why your application got rejected, but again, we will never know for sure. if you have any further questions about admissions, you could always talk to dentistry student services, but it is highly unlikely that they will be able to speak to you about your application specifically.
it's completely up to you if you feel like reapplying! you should really think about whether or not you want to continue pursuing dentistry. if you do feel like reapplying, maybe consider taking some non-degree courses in order to boost up your GPA for an even stronger application. i believe in you!
good luck with your future endeavours!
peace, love, and don't forget to floss,
aska