I am considering law school after I finish my undergraduate degree. What would admissions look for specifically? Would they look into what courses I had taken and what level they are in (2nd year versus 4th year)? Does it matter on who writes the recommendation letters (such as a university professor versus a teacher I had known for years)? When do people prepare to take the LSAT? Are there any tips to make my admission chances better? I wanna be prepared as law school is competitive as heck.
——————————————
hi there,
as someone who's never gone to law school (or has yet to, my parents are still hoping lol) i wasn't really sure how to answer this question without making stuff up.
so i reached out to someone who worked in grad school admissions, and this is pretty much what they had to say:
there isn't really a set standard for law school admissions– nothing they'll specifically look for across the board. depending on what program and what school you're looking into, the things they require and take into consideration will vary. even the person reviewing the application can influence the answers to each of those questions you asked. this is true for all grad schools, not just law, apparently.
because of this, any concrete answer i might be able to provide you with probably won't be consistently useful, and might even be misleading. i was told it's best to specifically check each program or school you're considering. often, there's a lot of stuff you can find just floating on the web. you can also look into attending info sessions, as schools typically send student or faculty representatives that'll be able to tell you about their program's criteria.
you can also take a shot at emailing or phoning schools' admission offices directly. this is a recommendation that comes with a (hopefully unnecessary) friendly reminder to be polite when you do so! i feel like a lot of students forget this when talking to administration. these are the people that may have your law school future in their hands, and anyway it's just the decent thing to do. this also means you'll want to avoid emailing multiple people the same question at the same time– if you feel it's necessary to do so, cc (not bcc) them. this way, they'll be able to tell that you've asked someone else too, and can then check whether you've received a response yet.
so that covers admissions– as for the LSAT, life @ u of t has done a pretty good piece with some relevant advice. according to them, it only takes about 2-3 months to prep for the exam. this other random law school site i pulled up recommended 3-4, so i'd say 3 is probably a good bet.
closing this post off with this iconic moment, because no post about law school is complete without a lil elle woods.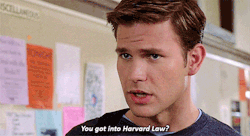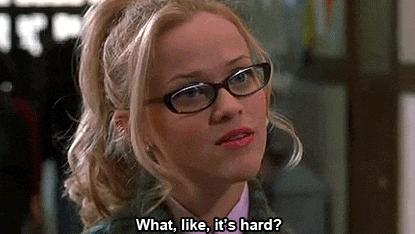 you got this. law school may be competitive as heck, but i believe in your ability to compete. best of luck with it all, and hope this helped even if it wasn't as specific as you hoped!
over n out,
aska