Note from aska: *WARNING* if you aren't caught up to game of thrones, you might not want to read this because it contains spoilers as well as several, and i mean several references to the show
Hi, so I missed the deadline and thus now I don't have a residence guarantee ( university college ).  I'm on the wait list. I wanted to ask what are the chances of me now getting a residence ? High or low ? Because I'm an international student so its really important for me to stay on campus. The residence people said they start sending out offers of residence to people on the waitlist by late June or early July. So should I start looking for off campus residences ? Or there are chances of me getting a residence ??!
My situation right now is literally like HODOR holding the door while the white walkers tried attacking him. I'm freaking out. I didn't know about the deadline. I thought June 1st was the deadline to submit the application.
Looking forward to a prompt response
Thank youuu
———————————————
i really wanted to answer this question with: hodor.
but it makes me want to cry and being employed is great.
once you miss out on that sweet sweet first year residence guarantee it's kind of hard to say whether or not you'll have a place to live. i wish i was jojen reed so i could have a vision and tell you "yes, you will get into res",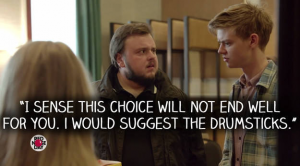 (btw if you haven't seen this video, you should)
but alas, like our lord commander jon snow himself, we know nothing.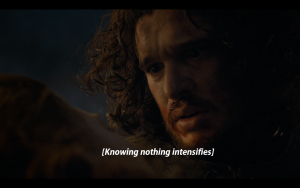 waitlists are super fickle and tricky to predict. if you're on the waitlist, UC residence services might try to set you up with an alternative option or redirect you to the appropriate resources. give them a call, they might be able to give you more info about your situation!
i would recommend you look through some other housing resources just to be safe. https://offcampushousing.utoronto.ca/ is great for housing for students. you can make your search very specific.
these two websites are also popular when looking for apartments in toronto:
for future reference: make sure to always always always always write all deadlines on your calendar and read everything very carefully. the university isn't exactly lenient on missed deadlines for most things.
i'm sorry you're in this situation and i wish i could do more than entertain you with GoT references but i really hope everything works out!
also, i love that subtle "looking forward to a prompt response"… ya well if by prompt response you meant several days, don't worry, i got you
(we've been going through some changes here at aska, bear with us, we're trying our best here)
the lannisters send their regards, (last one, i swear)
aska